Under the Orca Boats brand name through Orca Canoes & Kayaks Ltd., I have produced hand crafted wooden kayaks, wood strip canoes and small row boats for discerning customers around the world. With a tasteful eye to aesthetics and creative use of common softwoods and exotic hardwoods, each craft is a unique work of art.
Any person who wishes to acquire a custom hand crafted wooden canoe or kayak fully appreciates the skill, time and effort it takes to complete a craft of this caliber.
Below are some of the boats that are for sale . If you want to inquire about these boats or the possibility of having one built for you
Contact me
.
For Sale
Lawton Tender Row Boat I built this cedar strip row boat a few years ago and now the family is looking to sell it. It has only seen water a few times, so is relatively brand new. Design specs can be found here. Lawton Tender . It is being offered for $4000 which I believe is a fair price. The boat had a photo in Wooden Boat Magazine as well in the "Launching" section. Contact me so I can put you in touch with the owners or link to their ad on Facebook Marketplace.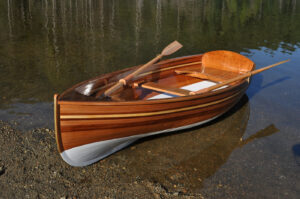 For Sale

SOLD
Black Pearl Greenland style kayak. Designed by Bjorn Thomasson of Sweden and built at Orca Boats, this traditional style of kayak is a slender, low volume, playful kayak. It is rated for a person around 5'8″ to 5′ 10″, with a weight range of 155 to 175 lbs. and with the smaller, traditional style cockpit, it would be better suited to a slender paddler. This is not a recreational touring kayak for long trips, but rather a fun boat to surf, roll and rock garden in. It was originally built for a customer who nearing the end of the build, bowed out, which means you can get a pretty good deal on this one.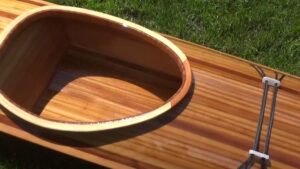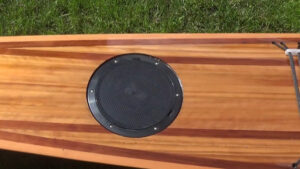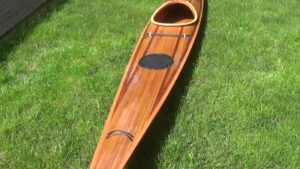 You can also view the actual build of this kayak on my YouTube channel. Contact me for more information and pricing. Can be shipped anywhere in Canada or the US.
I also have a chestnut 16 foot canvas canoes that if you wish to adopt and have it restored for yourself you can contact me.