Meticulously designed and built by hand one at a time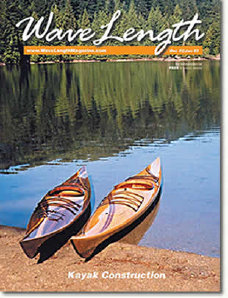 Articles and Testimonials
Over the years, Rod Tait has been commissioned by collectors and discerning customers who desire a finely built, hand crafted piece of functioning artwork.
In 2003, several of my wooden kayaks were on the cover photo of Coast & Kayak Magazine (formerly Wavelength Magazine). View the editorial and the follow up interview in this issue.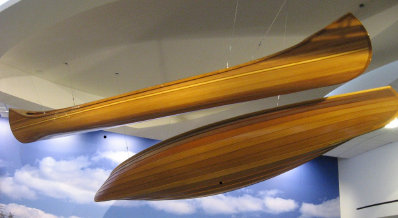 In 2009, the Vancouver International Airport authority commissioned me to build a custom wooden canoe. Renowned for its collection of local and world art, the canoe remains on permanent display with other boats in the International Arrivals hall at the airport.

These two kayaks are on display in a customer's luxury home in the West Indies.
In addition, here are a few customer's comments:
" Rod,
If I died today, I would be a happy person. I took the kayak out into English Bay this afternoon to check out its performance in wind and waves. Its handling is fantastic. The high swept sheer at the bow keeps the boat dry upwind and lifts the bow down wind in waves. I couldn't stop grinning with pleasure. The long water line was also useful in maintaining an easy 4 to 5 knots and I didn't find it difficult to power it up against the wind and waves."
Tim O., West Vancouver, B.C.
(Bjossa design kayak, best small craft, modern construction, Vancouver Wooden Boat festival)
"Hi Rod,
I launched the Hyak kayak at Ambleside beach on wed Sept 29th, evening and was very pleased with the way it handled. It is what you would expect from the design specs. It is a straight tracking kayak with really good speed, due to the longer length and narrower width. I found the kayak stable enough to be comfortable for someone with paddling experience and balance skills.
The design was a bit of surprise for me as the front deck area has enough area for feet and leg space but the appearance from the outside is a low profile deck. Somewhat like the sensation of a surf-ski sit-on-top style but with having an enclosed area. One thing that is immediately noticeable is of course the great structural stiffness and lighter weight, that adds tremendously to an enjoyable paddling experience."
Stu, North Vancouver, B.C.
Hyak design kayak
Hi Rod,
We are very appreciate that you build so beautiful canoe for our family! And so nice and kindly service! You make our family's dream come true! Thank you very much! When we first paddled this canoe yesterday afternoon, Ooooooooo! That was wonderful. So smooth, so light, so great!!!! Rod, you really did a great job, nice style, honest and kindly! I hope everyone who wants a wooden canoe can know you.
Have a wonderful and happy life!
Best wish!"
Hank L. Richmond, B.C
(Ranger Canoe – 2010)
Hello Rod,
Just wanted to let you know the kayak arrived safely today. It is exquisite."
Kate S., Director, Edgewater Gallery, Vermont.
( Kiska design kayak – 2011)
Rod,
The kayak has arrived, all safe and sound. I am absolutely delighted. Everything is so good. I have an eye for a boat and I can tell that this craft will slip through the water with ease. It has been a real pleasure to deal with you."
Colin A., Ontario, Canada
(Luna kayak – 2012)